You might also be interested in
SPRINGSTEEN SPECIAL
Dream baby dream - between Comacchio and Ferrara
SPRINGSTEEN SPECIAL
A crush on Bruce!
SPRINGSTEEN SPECIAL
Ferrara e Comacchio? Nice little places!
SPRINGSTEEN SPECIAL
Discover Ferrara after The Boss concert!
SPRINGSTEEN SPECIAL
Glory Days - among nature and tradition
SPRINGSTEEN SPECIAL
"One more day" in Ferrara
SPRINGSTEEN SPECIAL
It's not too early... to discover Ferrara
SPRINGSTEEN SPECIAL
Two days discovering the city
And said, "son, take a good look around.
This is your hometown"
Have you read the quote above by chanting? Well, you surely know then, that 2023 is the year of Bruce Springsteen and The E Street Band's world tour!
On 18 May 2023 Ferrara will be the home of 'The Boss' for a day, the first Italian stop on this fantastic music world tour.
Are you one of the lucky ones who will attend the concert, already sold out since months? Still haven't thought about accommodation, or simply want to stay in Ferrara or the surrounding area for a few days?Then you are in the right place!
Experience real Glory Days while discovering Ferrara, Comacchio and the Po Delta Park, among culture, nature, good food... and, of course, Bruce's amazing music!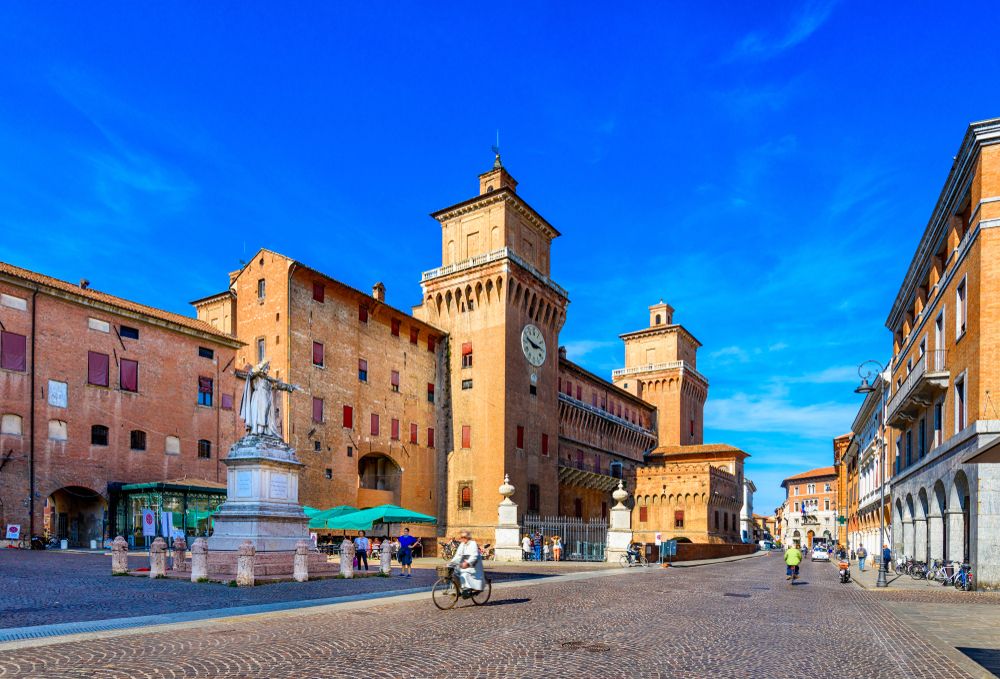 Ferrara, an UNESCO World Heritage Site (link focus) will captivate you with its unique and fascinating atmosphere. A stay in Ferrara will allow you to experience the history and beauty of a Renaissance jewel, a city on a people-friendly measure to be discovered comfortably on foot or by bike.
In the Este city, May means rediscovering the pleasure of a bike ride along the green city walls, gently heated by the warm rays of the sun. But also splendid sunsets on the Darsena, a stroll through the picturesque streets of the medieval core or an aperitif enjoying typical products.
Moreover, interesting museums, exhibitions at Palazzo dei Diamanti, and many events. Among them is the Palio di Ferrara with its magnificent parade, which will bring history to the streets of the city on the evening of 20 May, two days after Bruce's concert! This is an extraordinary and unforgettable experience: you may choose which contrada to cheer for and admire the magnificence of a long gone era that is still present in every corner of our city!
Following the course of the 'great river', the Po, you will discover another treasure of our area, the delightful town of Comacchio.
Nestled in the heart of the Po Delta Park, a UNESCO MAB heritage site, Comacchio will enchant you with its colourful houses and its ancient history.
You can relax while discovering the wonderful nature of the Park: among birdwatching, tradition and folklore, or on the golden beaches for a day of sunbathing with all the facilities!
We feel like taking a holiday, don't you?
DISCOVER OUR DEDICATED OFFERS
You might also be interested in
SPRINGSTEEN SPECIAL
Dream baby dream - between Comacchio and Ferrara
SPRINGSTEEN SPECIAL
A crush on Bruce!
SPRINGSTEEN SPECIAL
Ferrara e Comacchio? Nice little places!
SPRINGSTEEN SPECIAL
Discover Ferrara after The Boss concert!
SPRINGSTEEN SPECIAL
Glory Days - among nature and tradition
SPRINGSTEEN SPECIAL
"One more day" in Ferrara
SPRINGSTEEN SPECIAL
It's not too early... to discover Ferrara
SPRINGSTEEN SPECIAL
Two days discovering the city