BENVENUTA PRIMAVERA! Maratona di poesia
21 March 2023 ore 15:30 , Biblioteca Comunale Bassani di Ferrara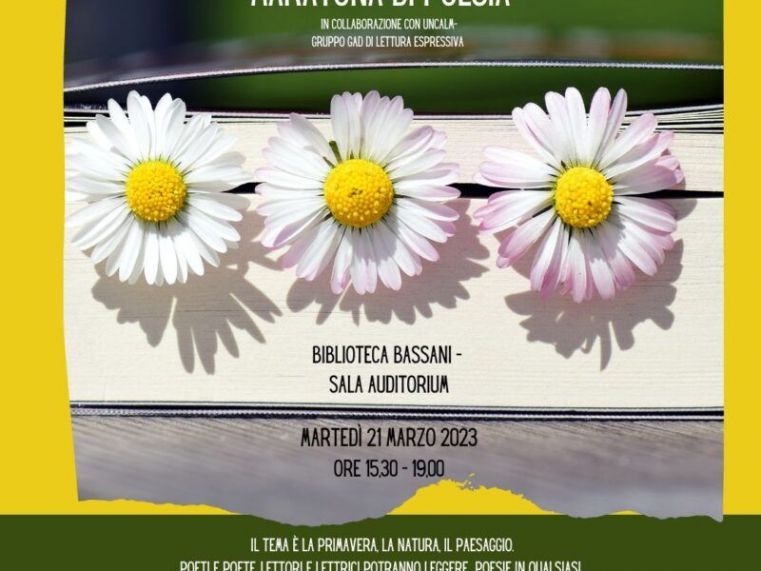 MARTEDI' 21 MARZO 2023 ORE 15.30-19.00
Sarà tutta dedicata al ritorno della primavera e alla rinascita della natura la 'Maratona di poesia' in programma martedì 21 marzo 2023 dalle 15,30 alle 19,00 nella sala auditorium della biblioteca comunale Bassani (via Grosoli 42, zona Barco, Ferrara). L'iniziativa è organizzata in collaborazione con UNCALM-Gruppo GAD di Lettura Espressiva, in occasione della Giornata mondiale della Poesia (21 marzo).
La maratona vedrà coinvolti poeti, poete e appassionati di versi, che si alterneranno sotto la guida sapiente del Gruppo GAD di lettura espressiva, nel leggere poesie proprie o di altri autori, in italiano o in dialetto.
L'ideAzione è a cura di Athos Tromboni, gli intermezzi musicali a cura di Patrizio Fergnani.
Chi fosse interessato a partecipare e ad avere maggiori informazioni, può scrivere a: info.bassani@comune.fe.it o telefonare ai numeri: 0532797418-414
The editorial team is not responsible for any inaccuracies or changes in the program of events reported. In case of cancellation, variation, modification of the information of an event you can write to infotur@comune.fe.it.