Mostra "Case di vita. Sinagoghe e cimiteri in Italia"
20 April 2023 - 18 September 2023 , Museo Nazionale dell'Ebraismo Italiano e della Shoah – MEIS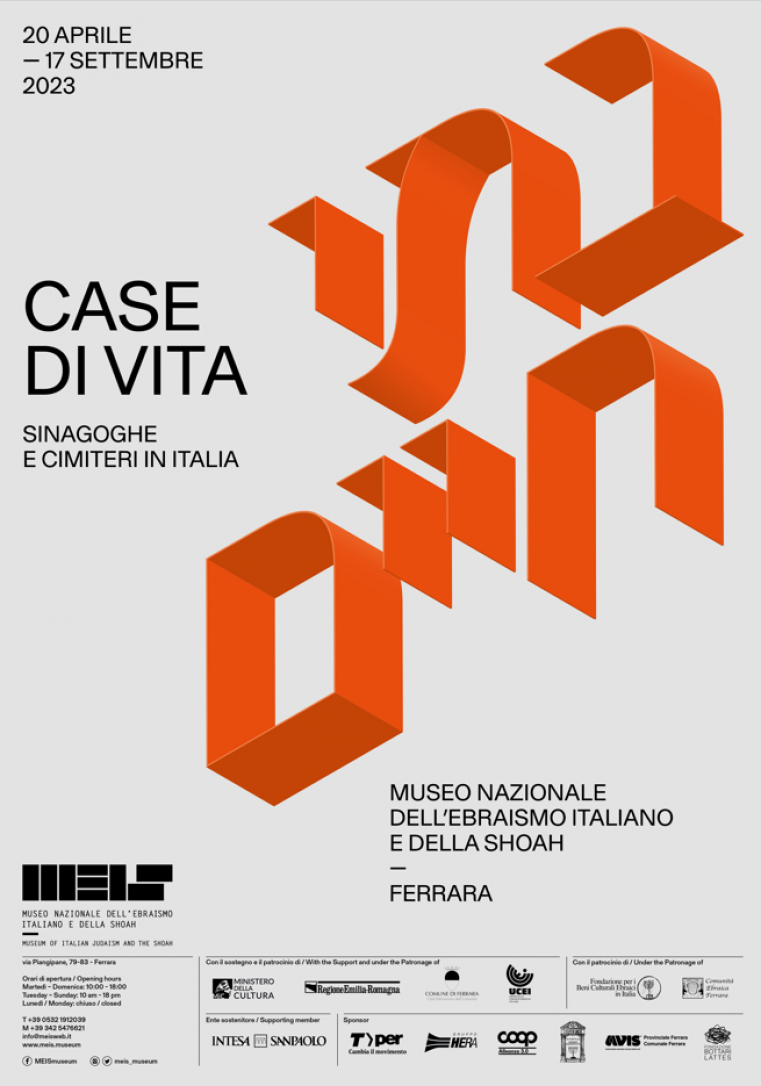 Dal 20 aprile vi aspettiamo con la nuova mostra del MEIS "Case di vita. Sinagoghe e cimiteri in Italia", a cura di Andrea Morpurgo e Amedeo Spagnoletto.
L'esposizione è un approfondimento innovativo e originale che riflette sull'aspetto architettonico, rituale e sociale della sinagoga e del cimitero ebraico. Un percorso che affronta la specificità di questi due spazi e, parallelamente, le vicende dell'ebraismo italiano che vanta oltre duemila anni di storia.
Sinagoghe e cimiteri sono il centro della vita ebraica e ospitano le principali festività, i riti, i matrimoni, le nascite e le morti. Sono dunque spazi d'incontro, di vita sociale e di costruzione del senso di comunità. La mostra, quindi, intreccia storie di città e umanità, attraverso l'esposizione di numerosi progetti architettonici, preziosi documenti provenienti dagli archivi statali e dalle comunità ebraiche, oggetti che si tramandano di famiglia in famiglia e prestiti prestigiosi come l'Aron ha-Qodesh, l'armadio sacro della Comunità Ebraica di Vercelli.
La mostra, che ha ricevuto la Medaglia del Presidente della Repubblica, prestigioso premio di rappresentanza, gode del sostegno del Ministero della Cultura, Ente Fondatore del MEIS; degli Enti Partecipanti Regione Emilia-Romagna, Comune di Ferrara e Unione delle Comunità Ebraiche Italiane e dell'Ente Sostenitore Intesa Sanpaolo.
Patrocinata dalla Fondazione per i Beni Culturali Ebraici in Italia e della Comunità Ebraica di Ferrara, l'esposizione è realizzata con il contributo della Fondazione Guglielmo De Lévy, TPER, Hera, CoopAlleanza 3.0, AVIS e Fondazione Bottari Lattes.
INFO
Orari di apertura: La mostra è aperta da giovedì 20 aprile 2023 a domenica 17 settembre 2023. Il museo è aperto dal martedì alla domenica dalle 10.00 alle 18.00.
Aperture straordinarie: lunedì 24 aprile, martedì 25 aprile, lunedì 1° maggio.
Contatti: Per prenotazioni da telefono fisso: 848 082 380; da cellulare e dall'estero: +39 0639967138; e-mail:meis@coopculture.it. Per informazioni:342 5476621 (attivi da martedì adomenica dalle 10.00 alle 18.00)
The editorial team is not responsible for any inaccuracies or changes in the program of events reported. In case of cancellation, variation, modification of the information of an event you can write to infotur@comune.fe.it.